Golf & Tennis
Lot 1437: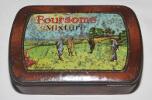 'Foursome Mixture. The Sportsman's Tobacco'. Golf tobacco tin with image of a golf foursome to lid. The players are named as Mitchell, Vardon, Duncan and Braid playing at Gleneagles. The Robert Sinclair Tobacco Cpo Ltd, London and Newcastle on Tyne. Some wear and marks to image and to tin otherwise in good condition
Estimate: £25/35
Hammer price: £22
Lot 1438:

Lanny Wadkins. Titleist golf club apparently used and signed by Wadkins. Together with a card signed by Wadkins and dated June 1992. G
Estimate: £30/50
Hammer price: £10
Lot 1439:
Signed cricket photographs. Four colour press photographs of England players, all signed by the player featured. Signatures are Hussain, Hick, Atherton and Randall (promotional photograph). All around 8"x10"
Estimate: £15/25
Hammer price: £5
Lot 1440:

Golf silver spoons, buttons, medals and badges. Framed display comprising twelve silver cricket spoons, each with golfing theme to head, a selection of fourteen various sized silver buttons some with emblem and names of Sale Golf Club, Bramhall Golf Club etc. Also three golfing medals and three golfing trinkets. One of the spoons has been detached from the framed and glazed display otherwise in good condition, nicely presented. The majority of the items appear to be silver but as they are framed and glazed it is difficult to check
Estimate: £50/70
Hammer price: £50
Lot 1441:

Golf. Two vesta cases, one a decorative small silver metal square vesta case with raised image of golfer driving to both sides of the case. Ring suspension. Marked to inside edge '925G sterling'. Approximately 1.25" square. The other a silver rounded oblong vesta case advertising 'The British Salv Fire Insurance Company Limited' to one side and to the other an image of a golfer in plus fours driving from the tee. The advertising and image appear to be on a wrap around material. The vesta measures approximately 1.5"x2.25". Some foxing and staining to the advertising and golf image, some general wear otherwise in good condition. An unusual vesta. Qty 2
Estimate: £40/60
Hammer price: £48
Lot 1442: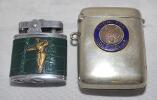 Golf. Electro-plated metal rounded oblong vesta case with raised metal and blue enamel emblem of the 'Chorlton Golf Club' to one side of the case. Ring suspension. 2.5"x2" Minor wear and small minor denting to back of case otherwise in good condition. Sold with a 'Brother Supermatic' 1950's cigarette lighter with green leather effect to lighter and a mounted brass coloured figure of a golfer to side. Qty 2
Estimate: £40/60
Hammer price: £25
Lot 1443: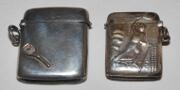 Tennis vesta case. Rare and attractive silver square vesta case, with simple tennis racket with raised tennis ball to centre of racket, with ring suspension. Hallmarked Birmingham 1919. Approximately 2" diameter. Sold with a further 925 sterling silver vesta case with image of a tennis player to sides. Approximately 1"x1.5". Qty 2. G
Estimate: £40/60
Hammer price: £45
Lot 1444:
Golf. Silver cigarette case presented to J. Sibson (a professional at Rushcliffe Golf Club 1931-1933) by the President. 'N.A. & P.G.A. to J. Sibson, in appreciation, J. Ward, President'. Details engraved to face of case. Also with engraved signatures of the President and Committee and golfers? to front and back. Sibson, then collected signatures of sporting and entertainment stars who scratched their signatures to the inside gilt lining, signatures include Don Bradman, Billy Cotton, Len Harvey, George Gunn, Tommy Lawton etc. The case hallmarked London 1930 and in good condition. Previously sold in Vennett-Smith's auction of November 1999 as lot 58
Estimate: £60/90
Hammer price: £25
Lot 1445:

Harold Horsfall Hilton. Vanity Fair. 'Hoylake'. Original colour chromolithograph of Hilton by Spy, dated July 16th 1903. Mounted overall 14"x20". Very good condition
Estimate: £70/100
Hammer price: unsold
Hilton was an English amateur golfer. He won the Open Championship at Muirfield in 1892, becoming only the second amateur to do so, and won again in 1897 at the Royal Liverpool Golf Club, Hoylake
Lot 1446:
Men's tennis press photographs 1980s/1990s. A good selection of approximately ninety official mono with some colour press photographs of players in match action at Wimbledon, Flushing Meadow, Roland Garros, Davis Cup etc. Players features include Andre Agassi, Tim Henman, Ivan Lendl, Jeremy Bates, John McEnroe, Henri Leconte, Goran Ivanisevic, Vitas Gerulaitis, Tom Gullickson, Brian Gottfried, Robert Seguso, Ilie Nastase, Yannick Noah, Emilio Sanchez etc. 12"x8" and smaller. G/VG
Estimate: £30/50
Hammer price: £28
Lot 1447:
Ladies tennis press photographs 1970s/1990s. A good selection of over one hundred official mono with some colour press photographs of players, the majority in match action at Roland Garros, Wimbledon, Flushing Meadow, Wightman Cup, Eastbourne etc. Players features include Steffi Graf, Martina Navratilova, Billie Jean King, Pam Shriver, Natalie Zevereva, Virginia Wade, Andrea Jaeger, Kathy Rinaldi, Annabel Croft, Jo Durie, Arantxa Sanchez, Monica Seles, Tracey Austin, Sue Barker, Gabriela Sabatini etc. 12"x8" and smaller. G/VG
Estimate: £30/50
Hammer price: £30
Lot 1448:
Wimbledon championships 1980s/1990s. A good selection of over fifty official mono press photographs featuring royalty and dignitaries attending the Wimbledon Championships, also scenes of the courts under cover, spectators taking cover from the rain etc. Photographs feature The Queen, Princess Anne, Princess Diana, Duke and Duchess of Kent, Sarah Ferguson, Margaret Thatcher etc. Sold with thirteen original mono press photographs of Real Tennis at Queens Club featuring the 1988 world champion, Lachlan Deuchar. The majority 10"x8". Odd duplication. G/VG
Estimate: £20/30
Hammer price: £45